Hello everyone! Big big changes coming when my partnership with theprintspace begins this June.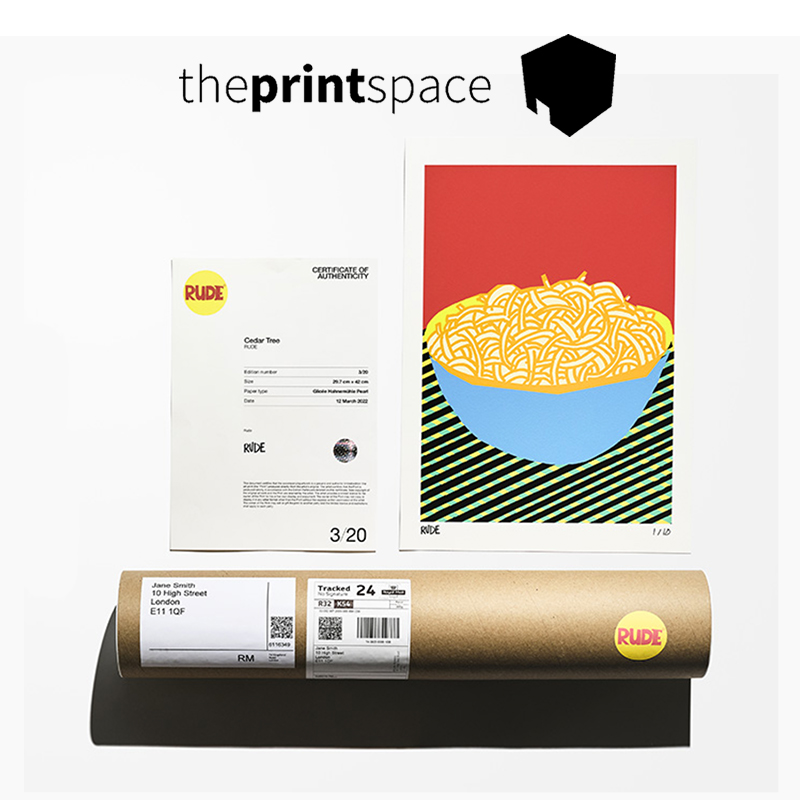 After careful consideration, I've decided to switch the printing and fulfillment operation of my print shop over to creativehub, which is run by the UK based company, theprintspace. They will be taking over those duties starting in early June. I'm very proud of the quality of my prints and how I've built up this Shop over the past 13+ years. While I really enjoy running my print shop—and being in control of every aspect of the production—it is monumental task for a single person. As the Shop has continued to grow, so has my time commitment to running it all and its become an overwhelming endeavor.
This is the major reason for the switch as my time for actual creative work has continued to shrink. With a number of projects and new endeavors coming on the horizon, it's a step I felt like I needed to take.
That being said, there are a number of amazing benefits to along with it.
---
Benefits:
Quality:
While I'm extremely proud of the quality of my prints, I'm not a professional printer by any means. theprintspace are top notch printers and they will produce the best print possible on super quality paper—which I'll have options on which is very cool. I'll be involved in every step of the printing process, so all prints will have my personal stamp of approval and a certificate of authenticity to go along with it.
International Shipping:
One of the biggest challenges for me running my Shop has been shipping—specifically international shipping. Shipping outside of the USA is outrageously expensive for everyone involved and has also been very extremely inconsisent—especially with USPS and international local postal services. Since theprintspace is based out of the UK, shipping to Europe will be a breeze and I'll be able to offer DHL courier service to the whole world. And all at a much more affordable price than I could ever offer. Such a relief.
Size Options:
Each new print will now come in 3 different sizes—small, medium, & large—each with their own editions. This will give you even more freedom to choose a print size that will best fit your space. I get a ton of inquiries if my prints come in different sizes. Now they will.
Framing:
This one is huge. I'll be able to offer ready to hang frames for each print in each size. There will be 3 options-white, black, & natural wood—and I'll be able to customize the mat size and mat color for each one. So awesome.
Consistent Fulfillment:
While I always try to my best to get prints order out within a week of receiving them, there are times when I just can't do it. When I'm finishing up a painting for a show, or have a strict deadline looming, there is simply no time for me to print, pack, and ship orders. It's also hard for me to stay on top of large amounts of orders during busy times like the Holidays.
Now orders will always leave within 48 hours, and with the courier service, will reach you within 5 days of shipping.
Environmental Benefits:
theprintspace is a 100% end-to-end carbon neutral company that offsets all its emissions and invests in renewable energy sources. This is very important to me in these times.
---
Changes Coming:
Print Availability:
When theprintspace takes over printing and fulfillment in June, I'll be removing the vast majority of prints from my Shop. A select few open edition prints will always be available and limited edition prints will be more time based. When new limited edition prints are released, older prints will be phased out.
This is to reduce the somewhat overwhelming amount of options in my Shop at any given time. Prints will be more curated and will be rotating. Some current prints will be re-released again in some manner, but most of them will be gone forever.
Price:
With the move to a 3rd party printing and fulfillment service will come a jump in pricing. But the options for size and framing should accommodate most budgets.
I'll be making a separate post about this, but if you see any prints you like in the Shop, now is the time to pick up one before they disappear and also before they go up in price.
---
All in all, I'm super excited for the move to theprintspace. It's going give you way more options and way more consistency in shipping. And it will also give me a lot more time to focus on creating which is so so important.
Thank you so much for reading and supporting me up to this point. Let me know if you have any additional questions.
-Andy