Hello Everyone!
It felt safe to welcome Spring early because this Winter has basically been Spring for weeks... then it snowed and got freezing. Winter got me with the long game. Good one.
This week has been a sluggish one because of the time change, which never seemed to affect me before. Guess my older self is more affected by these things now. Another fun wrinkle to aging. Between that and trying to figure out a way to keep out dog out of the cat litter room (he's apparently addicted to cat poop), it's been a slow, choppy week. I did manage to redo my portfolio website though, which I've been meaning to do for a while. I think it looks great. Check it out if you're feeling it. Also, my blog moved to this site so if you were subscribed to my old RSS feed, you'll have to update it.
Besides that I've been busy with my Patreon Digital Paintings. Here are the last two I did for 2022 and the first two I did for January and February this year:
October Digital Painting: Spell of Twilight States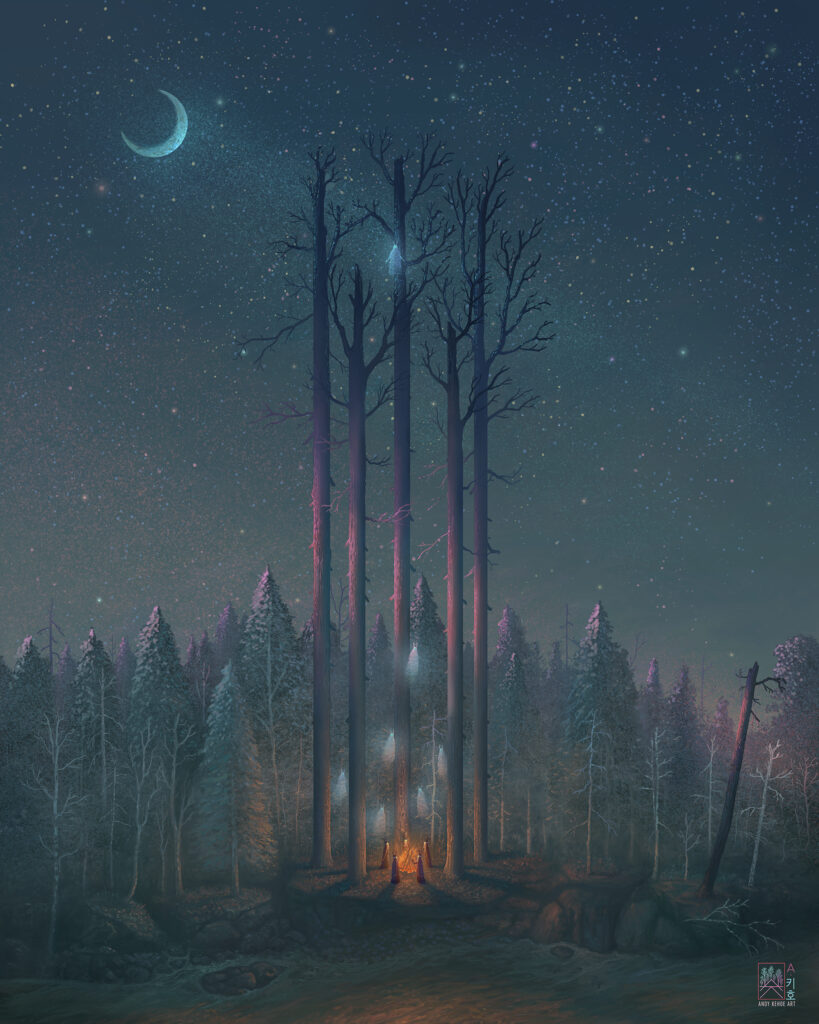 This piece continued my Halloween season paintings. Really love how this turned out with the multiple vertical levels and lighting scenarios. Each sections has it's own vibe but it all works together. Here are some details: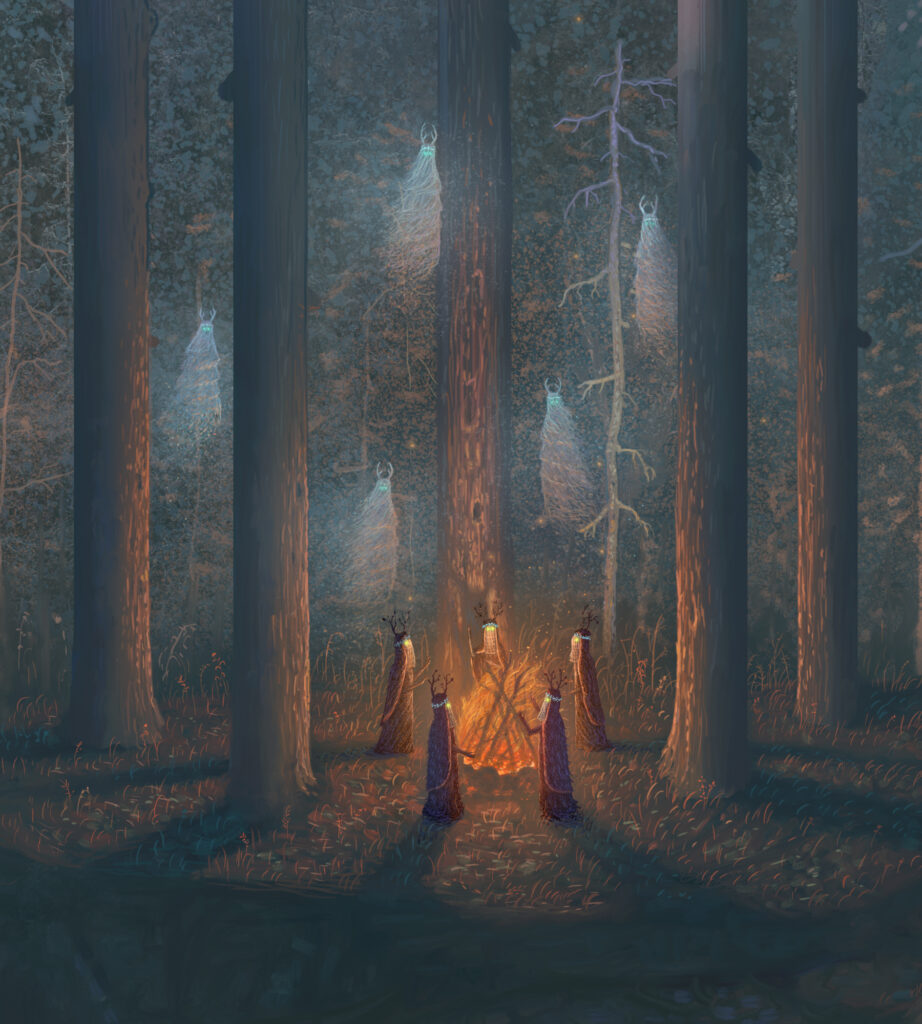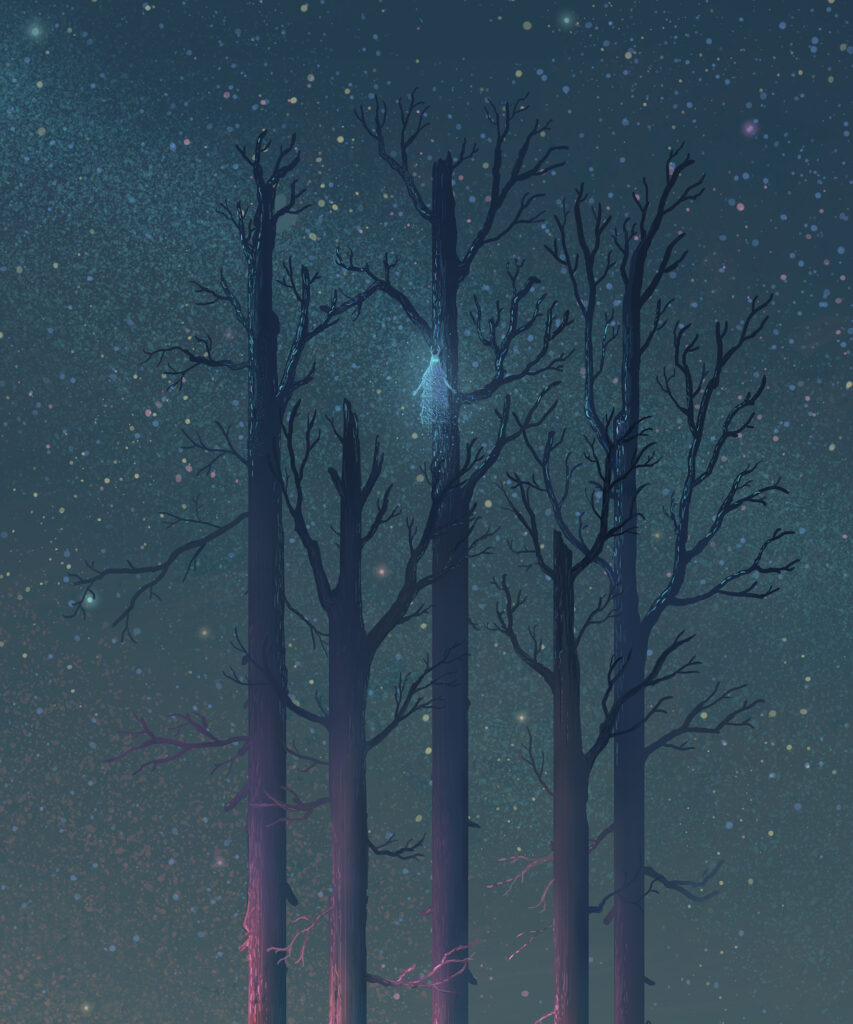 Prints can be found here: Spell of Twilight States Print
November/December Digital Painting: Season of Subtle Bounds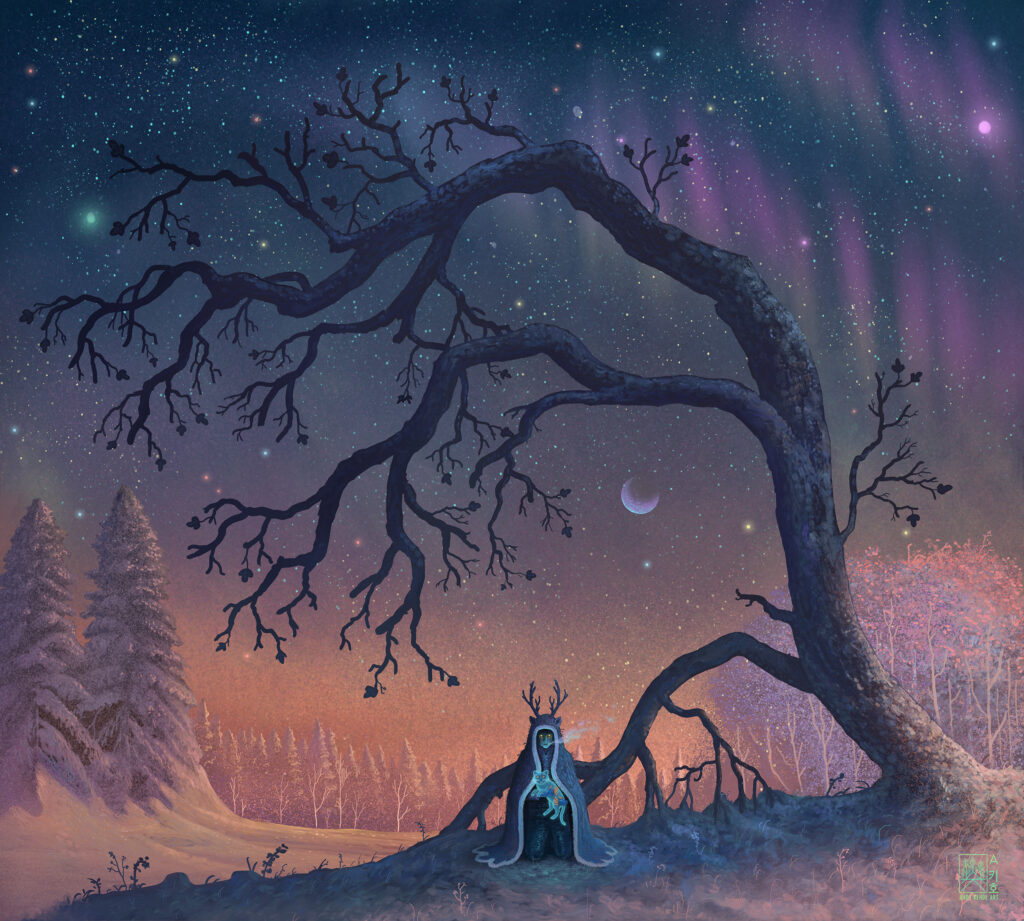 Here's my winter themed piece for the year. Winter is a season of mixed emotions for me so the duality of this image really suits me. Joy and depression are uncomfortably close to each other during these months. I do love this character and the spirit cat.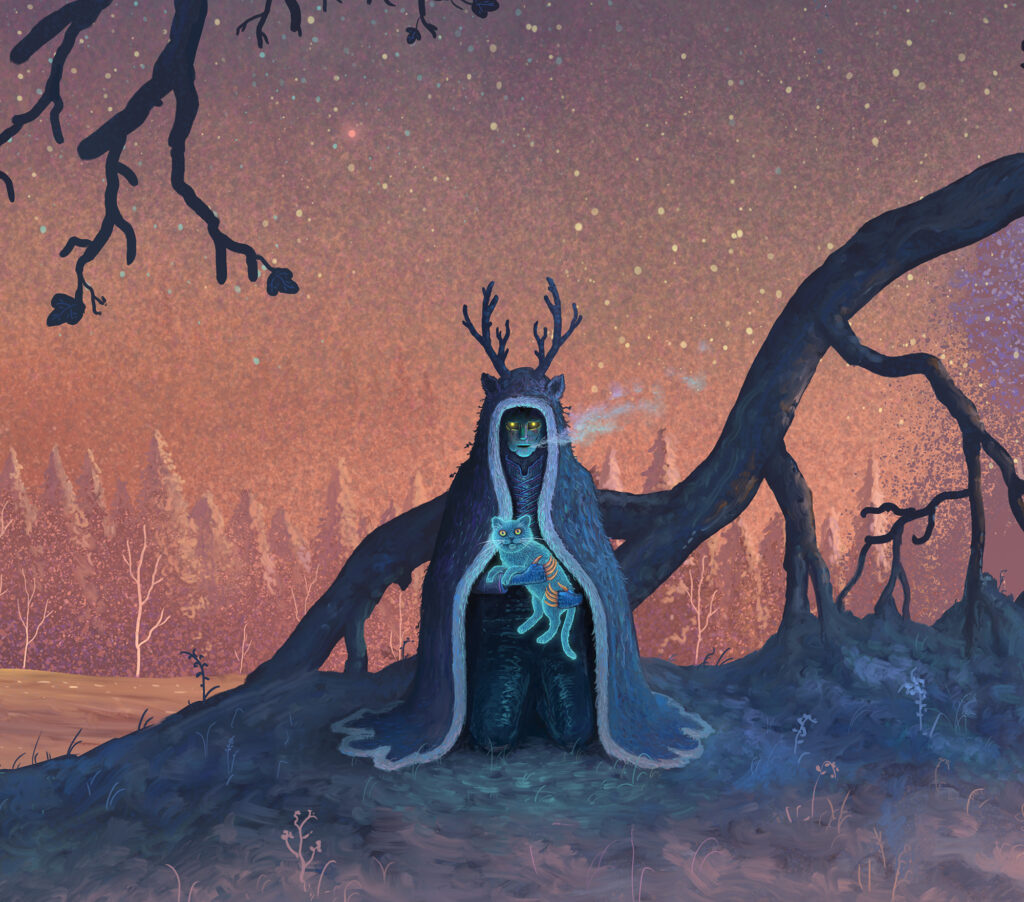 Prints can be found here: Season of Subtle Bounds Print
January Digital Painting: March of the Exiled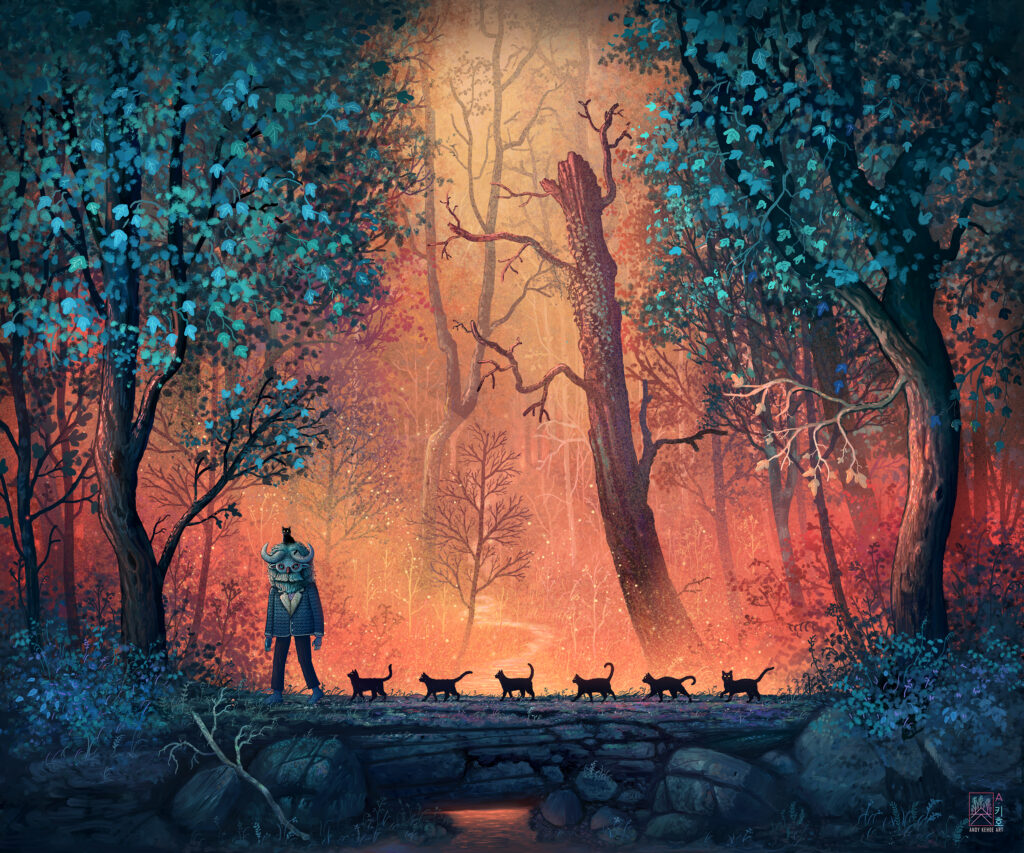 For the piece in January, I decided to revisit an old painting titled, March of the Exiled. Here's the original painting from a solo show at Jonathan LeVine Gallery in 2009.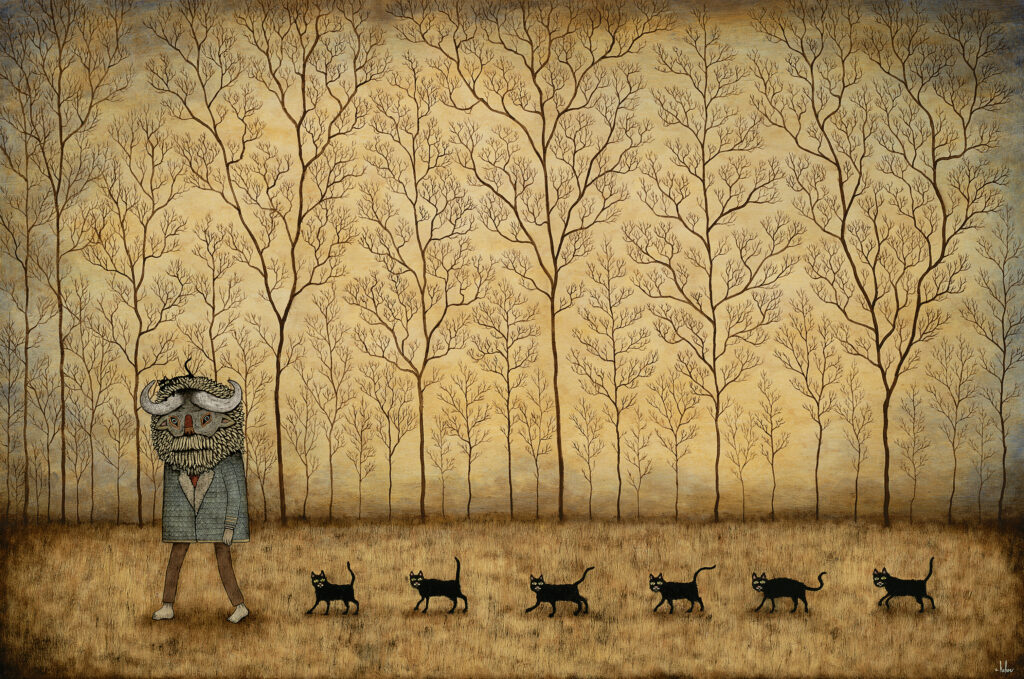 It's one of my favorite paintings from that era. I decided that I'm going to kick off every year with a digital remake of an important painting from my past shows. It'll be interesting to see how I can adapt the old imagery with my current painting sensibilities. This one was super fun and it was awesome to revisit these old friends. You can find prints here:
March of the Exiled 2023 Prints
February Digital Painting: Spirits of Forgotten Places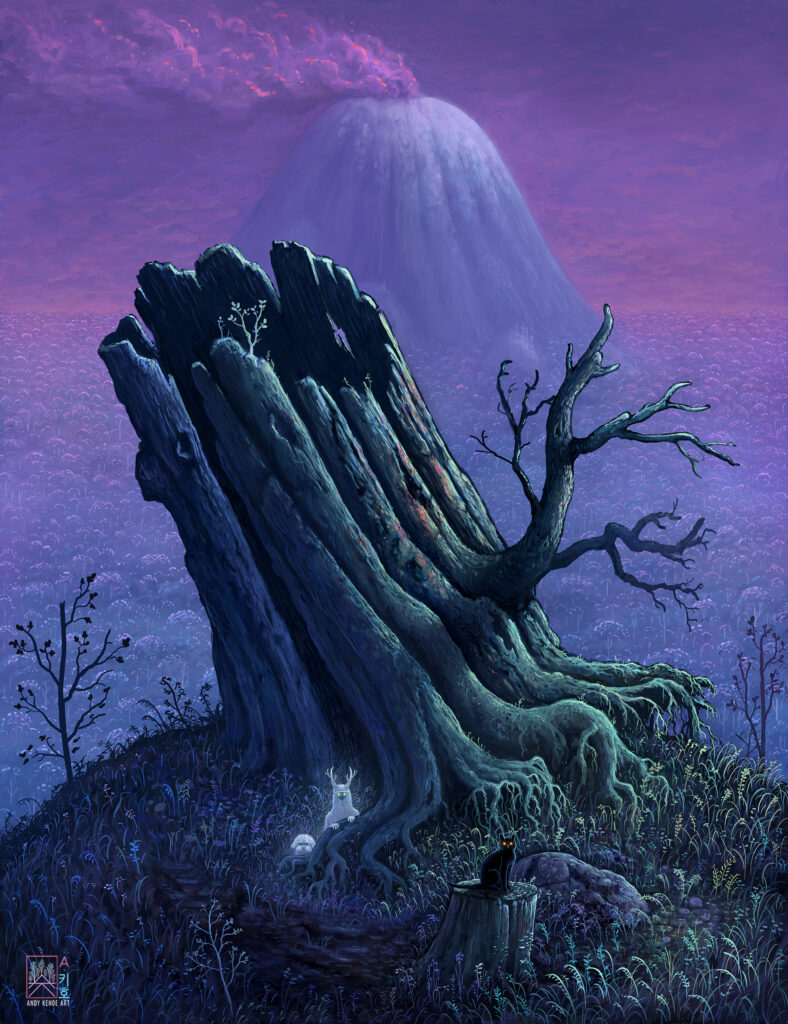 As I mentioned in my Patreon post about this painting, I really tried to go simple with this image since it was a short month, but I guess I just can't help myself. My dog loves cat poop and I love ridiculous details. I also really, really love painting dead trees. So much enjoyment. Plus I got to paint a ghost doodle.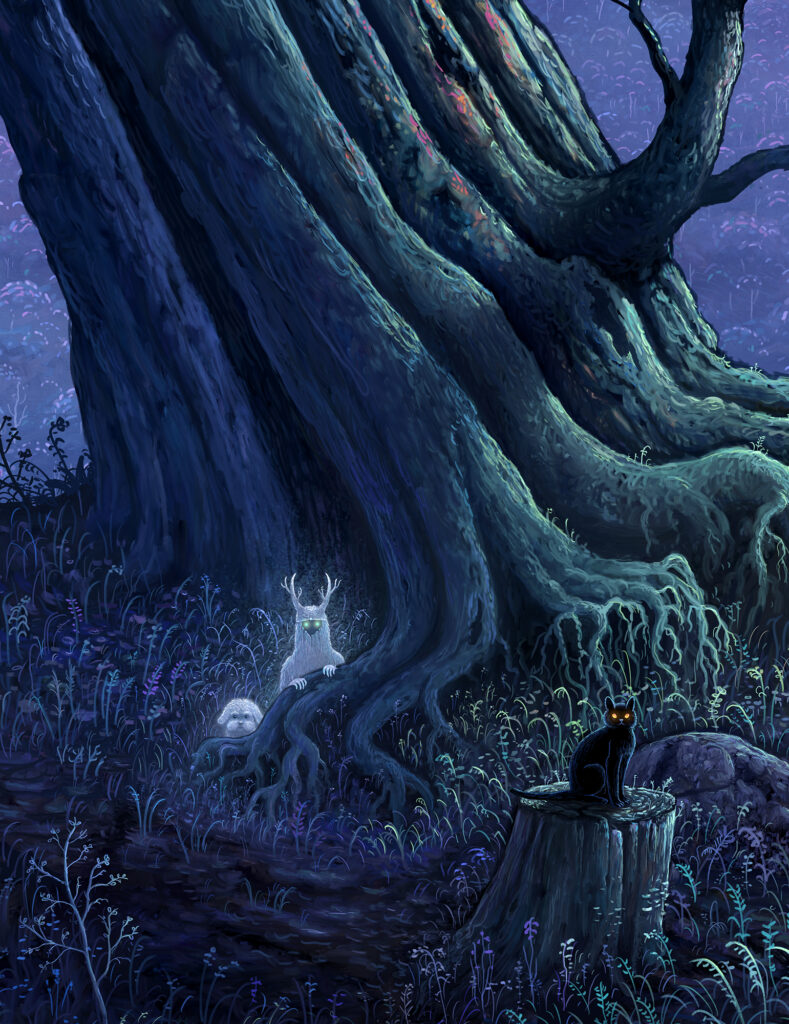 Prints can be found here: Spirits of Forgotten Places Print
---
Art Show News:
I have a couple group show coming up this year. The first is collaboration between Thinkspace and Antler Gallery. Here's the info:
'EXISTENTIAL'
Curated by Antler Gallery and Thinkspace Projects
On view April 27 - May 21, 2023 at:
Antler Gallery + Talon Gallery
2728 NE Alberta Street
Portland, OR 97211
Opening Reception:
Thursday, April 27 from 6-9pm
We'll be donating 10% of the sale from each work sold to BornFreeUSA.org to help in their fight to save our endangered species in the animal kingdom. We've worked with them many times in the past and they are a great organization dedicated to helping our wildlife.
BORN FREE USA
https://www.bornfreeusa.org/about-us/
---
The other group show is a Beautiful Bizarre Magazine exhibition called, Serendipity, at Haven Gallery in Long Island. That show opens November 4th. More on that as we get closer but I definitely plan on attending that show.
That's it for now. Thanks so much for reading!
-Andy